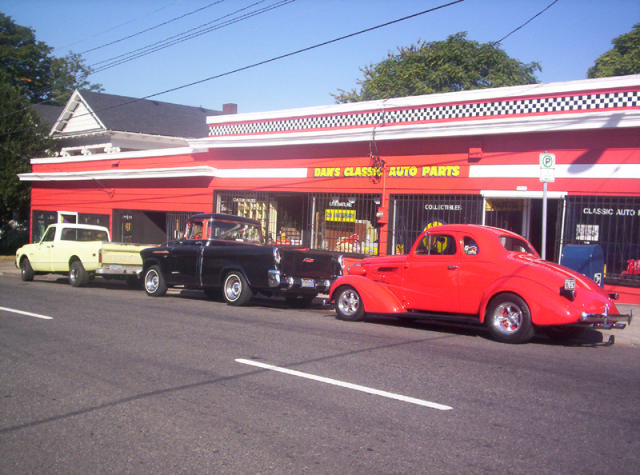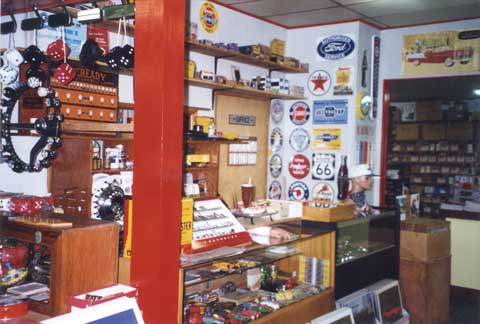 Dans Classic Auto Parts has been supplying parts for classic American cars since 1981. We specialize in Chevrolet & General Motors cars & trucks, plus have a variety of parts for other makes. We have the things you need, from maintaining a daily driver, to building an all out show car.
We have over 60,000 different parts listings from 220 different suppliers. We carry all the top brands, with a large selection of American made parts. We would like to help you with your automotive needs, and will supply you with the best available parts and service.
If you are ever in Portland, stop by our store.

Monday - Friday 9:00 am - 5:00 pm
Saturday 9:00 am - 2.00 pm
2529 N. Ross Ave

Portland Oregon 97227

In Memory of George Jacobs



1/16/63 - 6/3/09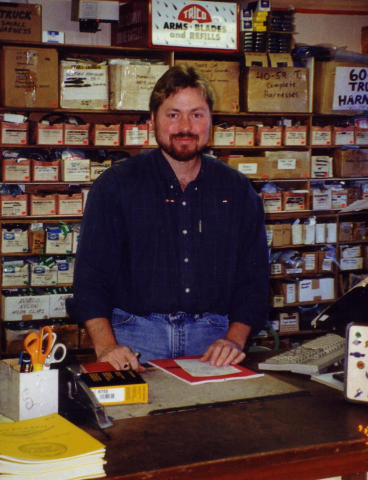 George Jacobs, manager of Dan's Classic Auto Parts, lost his battle with cancer at 8:00 Wednesday night June 3rd 2009. His faith in God helped him through this tough time.
George started working here over 22 years ago, and soon became manager. He was known as the guy who knew everything, and he could help several customers at the same time. His dedication to his job was unmatched. He will be deeply missed by everyone.
The memorial service was Saturday June 13th, at Central Bible Church, 8815 NE Glisan St, Portland, OR. Many people brought their classic cars, and there was a procession to the burial site at 82nd & Holgate.
Saturday June 27th there was a Benefit Cruise put on by Pharaoh's Street
Rodders to help George and his family with medical bills. This event was planned before George's passing, and he was going to be presented with his finished Chevy Blazer that many volunteers have worked on. The Blazer was on display
April 16-18 2010 at the Portland Roadster Show.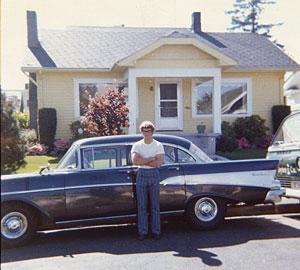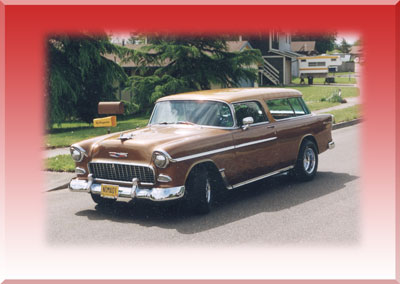 It all started when Dan was in high school and he bought his first car, a black '57 BelAir 4-door sedan. It was his daily driver for the next 10 years. But it wasn't enough... Only 1 1/2 years from that first purchase he bought a '55 Nomad, a $400 junker. 1 1/2 years later it was transformed into a first place winner at the 1974 Portland Roadster Show. He kept making improvements on the Nomad for several years and won many shows including a first at the 1978 National Nomad Convention, plus it appeared in many magazines. Dan also owns a '57 Cadillac Fleetwood and a '56 Cameo. The '56 Cameo is his daily driver and he uses it to haul his swapmeet trailer. For pulling all those parts around it has been equipped with a 396 and turbo 400.
While working on his cars Dan took many trips to auto wrecking yards and he also bought a lot of parts from a local Chevy dealer. He was always finding good parts he really didn't need, but couldn't pass up, so he bought them for future projects. Pretty soon the cupboards were full, then the attic and under the bed... Dan started going to swap meets to sell his extra parts. It got to be a bad habit so he decided to get into reproduction parts and make a business of it. In May of 1981 he started Dan's Classic Auto Parts in the basement of the family appliance business he was working for on the corner of 28th and Ankeny. By 1984 he needed to rent more space for his store next to the appliance shop. The business continued to expand and moved to 16th and Morrison in 1995. In 2018 we moved to our current location at North Ross & Russell in Portland.